Economic & Social Empowerment
AVSAR FOUNDATION (AF) is a not-for-profit organization incorporated in Nepal with the objective of empowering economically and socially deprived individuals and communities across the country through various programs.
Our Vision
Be a major contributor for Poverty Alleviation and Sustainable Development of Nepal.
Our Mission
To work with suitable partners to implement programs which empower socially & economically unprivileged communities across Nepal.
Our Objectives
To run programs that provide Economic Opportunities & Support to the less privileged population across Nepal.
To engage in activities which encourage entrepreneurship and help generate sustainable source of income for individuals and communities with low level of income.
To facilitate and support deprived and low-income population to get access to credit from financial institutions.
To provide informational and academic support regarding market, business and finance to deprived individuals and communities in Nepal.
To partner with the most appropriate NGOs and organizations to help AF meet its objective.
Geography
AF is currently working in 6 districts, spanning from east to west of Nepal, selected because of their high poverty index.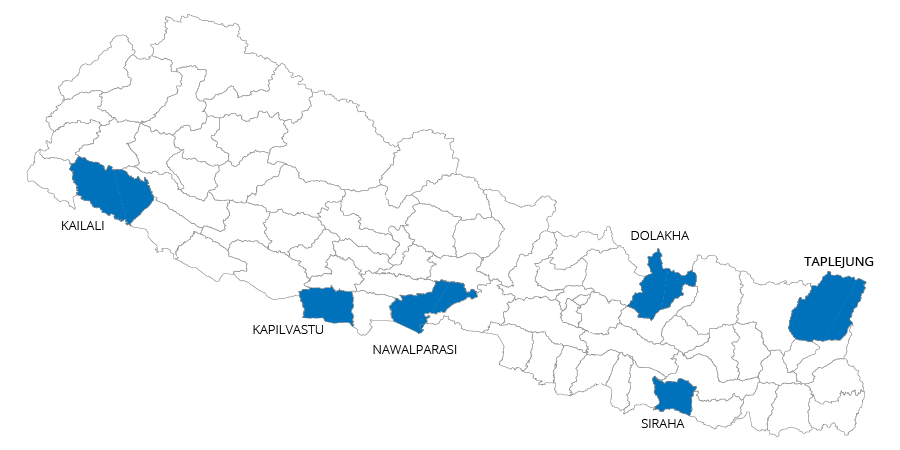 households by the end of 2019.
Background of the Problem
The proportion of population within Nepal who live below the poverty line is above 25%. The socio-cultural dynamics of the society puts men as bread-earners of the household and leaves the family dependent on that income. The income level is insufficient to meet the basic daily expenditure of the family such as such as food. Women are generally deprived of opportunities to further their economic wellbeing and mostly focus in supporting their male counterparts by engaging in household chores.
Even within rural Nepal, the Far-Western region, Mid-Western region and mountain districts have poverty rates above 40%. Remittance from migrant workers is usually the primary and only source income for the families. The women or youth seeking to generate secondary source of income through entrepreneurial endeavors have little or no access to formal bank financing. Even with the availability of financing the cost of borrowing becomes a barrier or slows down their economic progress.
AF's Solution
Feasible entrepreneurship opportunities that can generate a second income for households in rural Nepal will help uplift such family's' economic as well as social wellbeing.
In order to encourage deprived and underprivileged people to take institutional credit for initiating or expanding their entrepreneurial ventures, AF is currently running a program called AVSAR Microfinance Program, in partnership with financial institutions. Under the program, AF reimburses/ returns the interest amount that the borrowers have paid to financial institutions.
AF focuses primarily but not exclusively in providing opportunities to women in rural Nepal households with the aim of empowering women and bringing social harmony. AF shall run various other programs targeted to poverty alleviation and social empowerment.